Latest news at Berwick Healthcare
---
Important vaccination update for msm & Drug users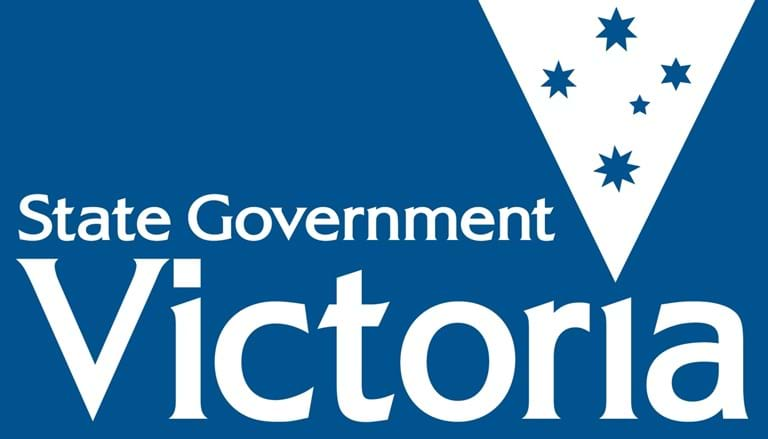 MSM = Men who have sex with other men.
"Increasing cases of Invasive Meningococcal Disease (IMD) due to serogroup C have been seen across Melbourne, almost all in MSM, since May 2017"
Due to this we are encouraging our MSM patients to obtain a free Vaccine for Meningitis W up until June 2018.
"There has also been a outbreak of Hepatitis A. The outbreak is affecting MSM and people who inject drugs"
We are encouraging MSM and drug users who have injected in the past 12 months and live in Victoria to obtain a free 2 dose course of Hep A vaccine from the 1st of February 2018 to 31st December 2018.
Click here to book an appointment with one of our experienced doctors
---
Monash Pathology Opening hours

From Thursday 1st of February 2018 Monash Pathology will revert back to it's original opening hours;
Monday to Friday - 8:30am to 5:00pm
We are very sorry for the inconvenience.
---
2017 Charity Fundraisers @ Berwick Healthcare
2017 was a successful year for our Charity Fundraisers . We are excited to announce that we raised a total of $2080.95 for charities such as; Bandanna Day, Beyond Blue, Biggest Morning Tea, Daffodil Day and helping the Casey Food Truck.

We have also come together to donate to The Winter Coat Drive and Women in need.

A huge thank you to all our patients who gave a little to make a big difference in someone's life.
---
New Cervical Screening Test
The common "Pap-Smear Test" is now being replaced with a new Cervical Screening Test that allows women between the ages of 25 - 74 with normal results to be tested every 5 years instead of every 2!
According to cancerscreening.gov.au, the new test is expected protect up to 30% more women.
We encourage women who are now due for their 2 year "Pap - Test" to book an appointment with one of our experienced doctors to have the new Cervical Screening Test. Call 9796 1500 or click here book online
Please watch below video for more information;
---
"New Year - new you" Make 2018 your year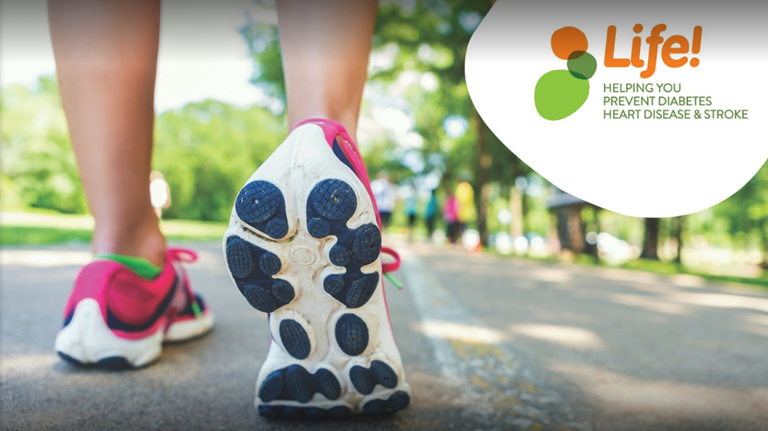 Make 2018 the new you with our new health group sessions at Berwick Healthcare.
You will received free continuous support throughout the program from the health professional team working with The Life! program on topics such as;
Healthy Eating and Weight Control
Goal Setting + Managing Lapses
Stress Management and Sleep Patterns
Physical Activity
and Diabetes, Heart Disease and Stroke prevention.
The program is delivered as a Group Course or a Telephone Health Coaching service. The Life! program is available to people at high risk of developing type 2 diabetes, heart disease and stroke. Download next year's Group Dates here.
To apply for any of the 3 group dates, please fill in this form and post or fax to Diabetes Victoria (Address and Fax number on form). The form must be submitted with a copy of your fasting glucose and cholesterol blood tests taken in last 12 months, or go to see their GP for paperwork to be done.
To check if you are at risk of type 2 diabetes, visit www.lifeprogram.org.au/ausdrisk-test
"The Life! program really worked for me. Just by being committed to achieving a series of small goals, I got the results I wanted – I've lost 12kg, not by going on a diet but by integrating a whole new lifestyle that now feels natural and normal to me." Dianna, Life! program participant
---
Berwick Bipolar Support Group 2018 dates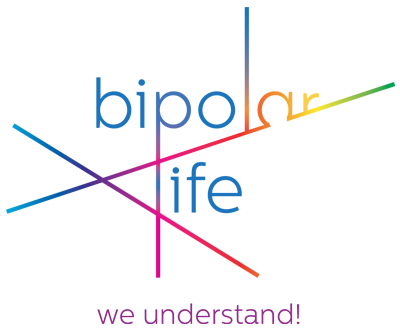 Berwick Healthcare hosts Bipolar Life, a Bipolar Support Group that meets on the first Wednesday of every month on site in our conference room. The purpose of the support group is to provide an opportunity for people living with bipolar disorder to connect with those with similar experiences. Group members gain strength and support from each other, and learn new ways of coping through sharing feelings, knowledge, information and ideas. Speakers on topics like mental health services or health and well-being are also arranged at regular intervals. There is no requirement to book, just come along and it's free. You will be made most welcome.
2018 Dates are as follows;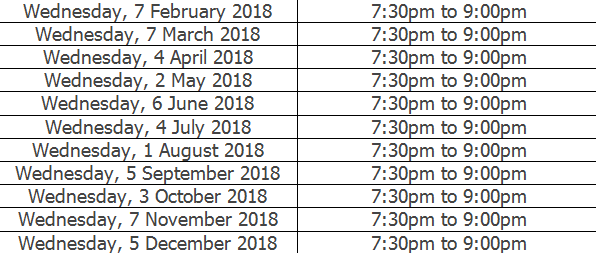 ---
Take a simple drive to a healthier life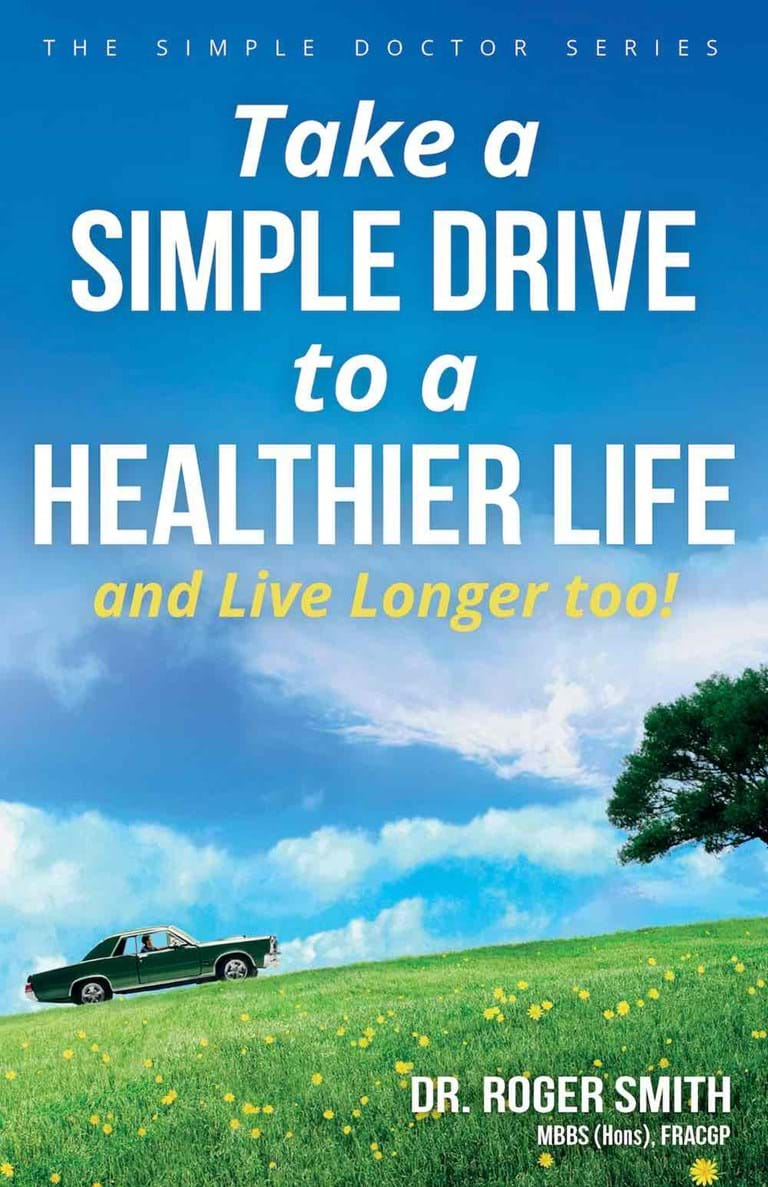 Take a simple drive to a healthier life was written by one of Berwick Healthcare's board members, Dr Roger Smith. Dr Smith is a GP at Casey Medical Centre in Cranbourne and has over 25 years of experience in helping people live a full and healthy life.
The book is for sale at Berwick Healthcare for only $10 a copy. Please see reception if you are interested.
Synopsis:
"You don't know what you have until it's gone". This saying is especially true for your health. Random luck plays a large role, but in family medical practice, Dr Roger Smith has seen many telling examples of this.
Just as you need to provide sufficient care for your car to keep it running well, your own personal vehicle (Your Body) is no different. If you neglect to service your care or ignore warning signs of trouble, you risk a major breakdown.
Neglecting your car may be expensive, but at least it's replaceable. Unlike your body - where it's not so easy to undo years of neglect. But with the right attention and personal effort, you will be able to perform a skilful U-Turn and your health may improve dramatically.
So come along for a simple drive to a healthier life, and live longer too!
Comments:
"Dr Roger Smith is to be commended for writing a book whose theme was driven by an encounter with a patient who seemed to value his car more than his heart. The message is quite simple, look after yourself, try to understand the role of environmental and behavioural factors in the causation of disease, factors over which you the patient has control. Undertake regular check-ups and take control of your health through diet, exercise, avoidance of smoking, alcohol etc. and early identification of problems before they become un-managable. The book is written in an engaging style for the layman and is very reader friendly." - Prof Leon Piterman
---
The following articles feature past programs offered via Berwick Healthcare that may return in the near future.
ANtibiotic Awareness week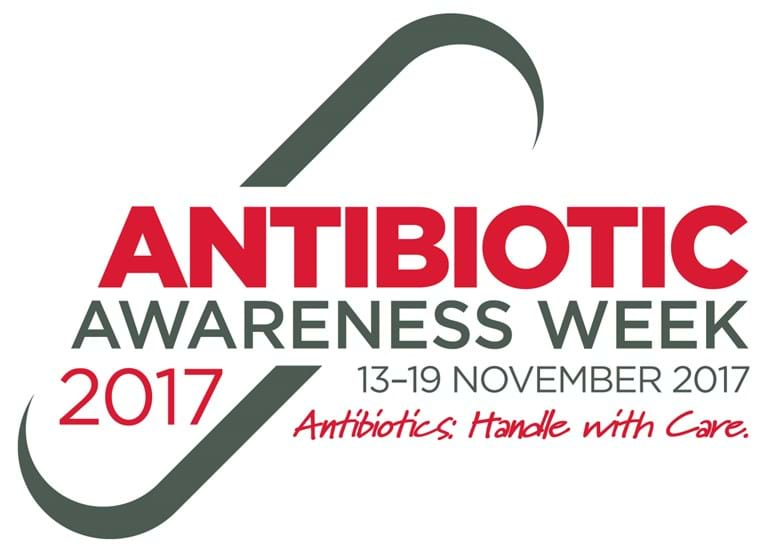 It's Antibiotic Awareness Week & Yes Antibiotic Resistance is something we should be scared of.
Watch this quick video of Professor John Turnidge explaining the causes and dangers of antimicrobial resistance, inappropriate antimicrobial usage, and what the Commission is doing about it.
---
New Day box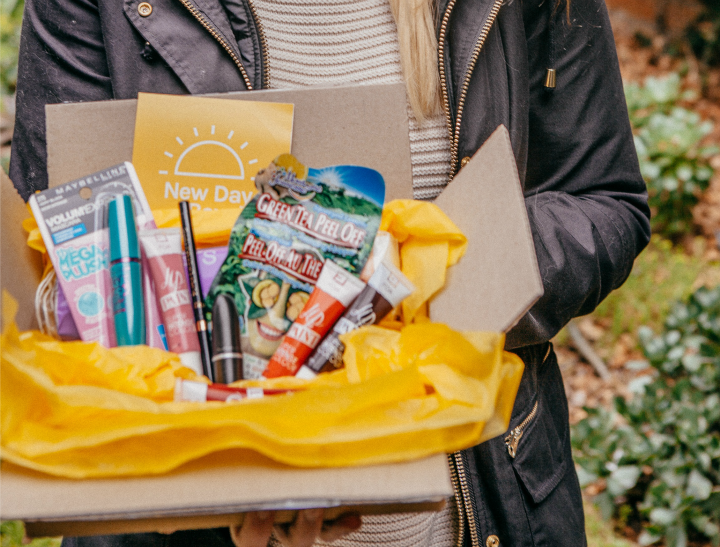 Berwick Healthcare is involved in NEW DAY BOX. A foundation that support women in family violence crisis by creating a New Day Box. Help us make a small difference by donating a box of unused goodies. Your box's can be dropped into the clinic and we will pass them on.
Please see image below of what you CAN and CAN'T donate

---
Did someone say...Sausage sizzle?
Oh yes we did! And for a great cause too. It's Bandanna day once again and of course we are getting involved trying to raise money for young people living with cancer. Come down to Berwick Healthcare this Wednesday 25th October between 11-1 and show your support by eating a delicious sizzling sausage. Our sausages are donated by a lovely cancer supportive patient and her friends.
Ps: Don't forget to wear your Bandanna :D
UPDATE*** - We raised a total of $464.95 for the Bandanna Day Fundraiser. Out of that, $160.95 was raised just at the Sausage sizzle!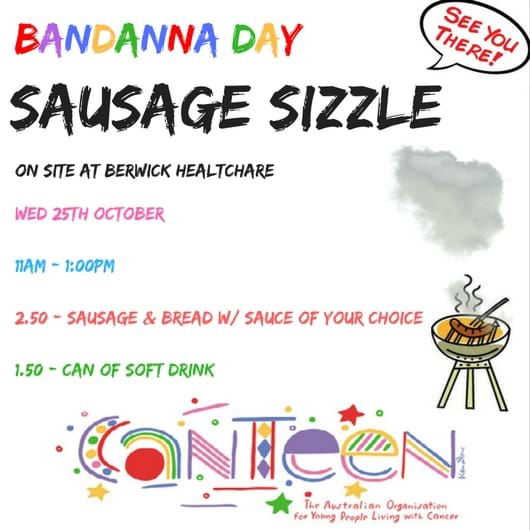 ---
October is breast cancer awareness month
1 in 8 women in Victoria will develop Breast Cancer in their lifetime. Although not as common, Breast Cancer can also appear in males. This month we are encouraging women and men to make an appointment with one of our doctors either online here or via phone on 9796 1500 to get a breast check.
For more information visit www.cancervic.org.au/about-cancer/cancer_types/breast_cancer
Footy Fever @ Berwick Healthcare
This year in celebration of the up-comming Grand Final between Richmond Tigers and Adelaide Crows our staff has dressed up in their favorite team's AFL Jersey's for a Gold Coin Donation. We raised $75.30!! All funds will be donated to Beyond Blue.
---
R U OK Day Success
Last Thursday Berwick Healthcare joined Federation & Monash University to support R U OK day. Our staff wore lovely yellow t-shirts and made sure everyone was okay
!
If you or someone you know is suffering please call us on 9796 1500 or Book online to make an apt with one of our experienced GP's.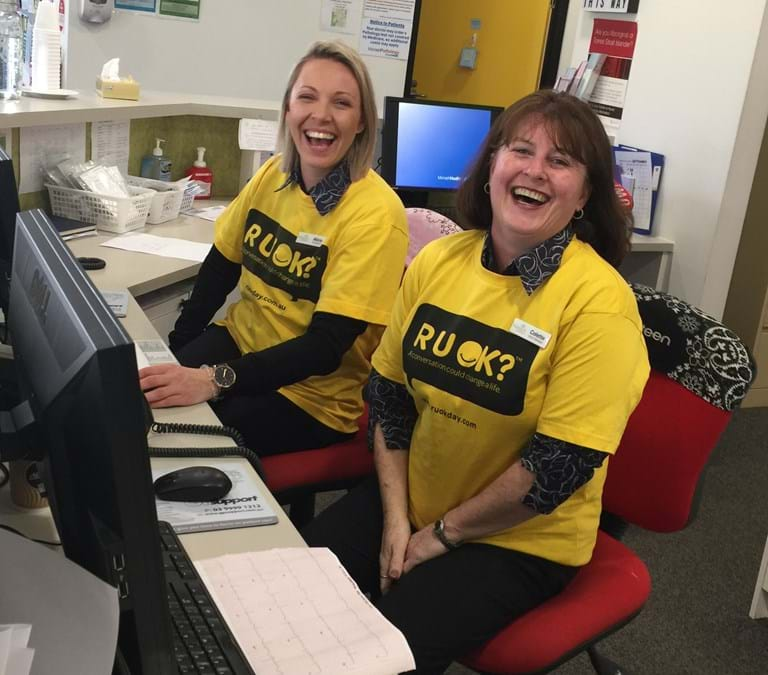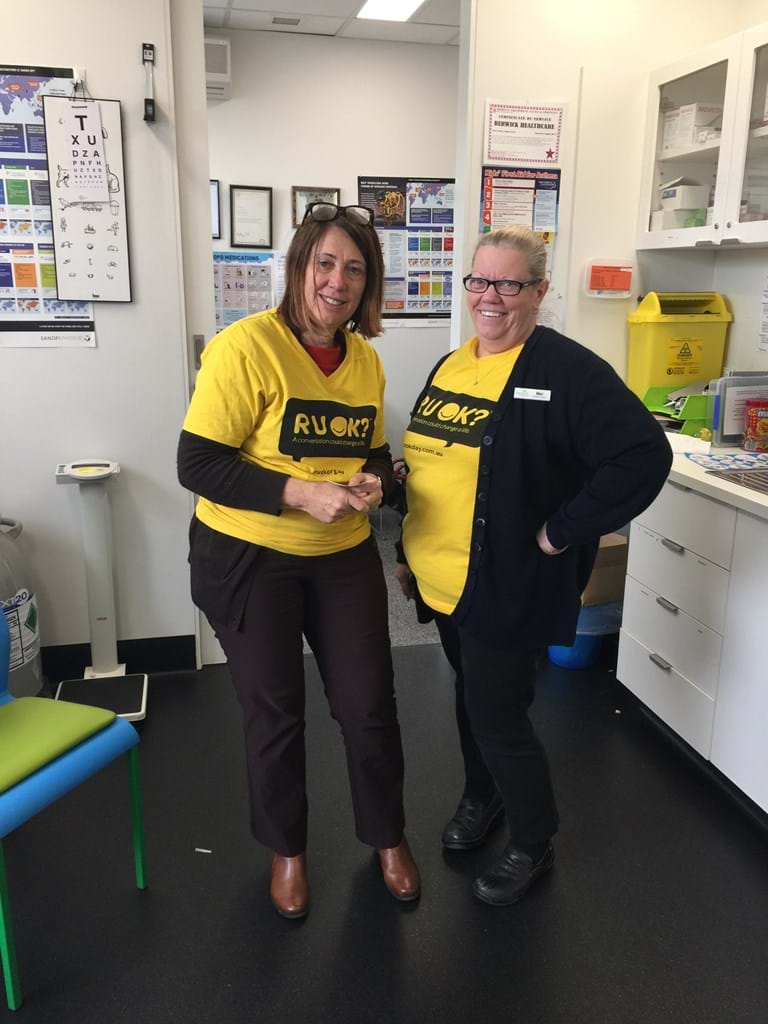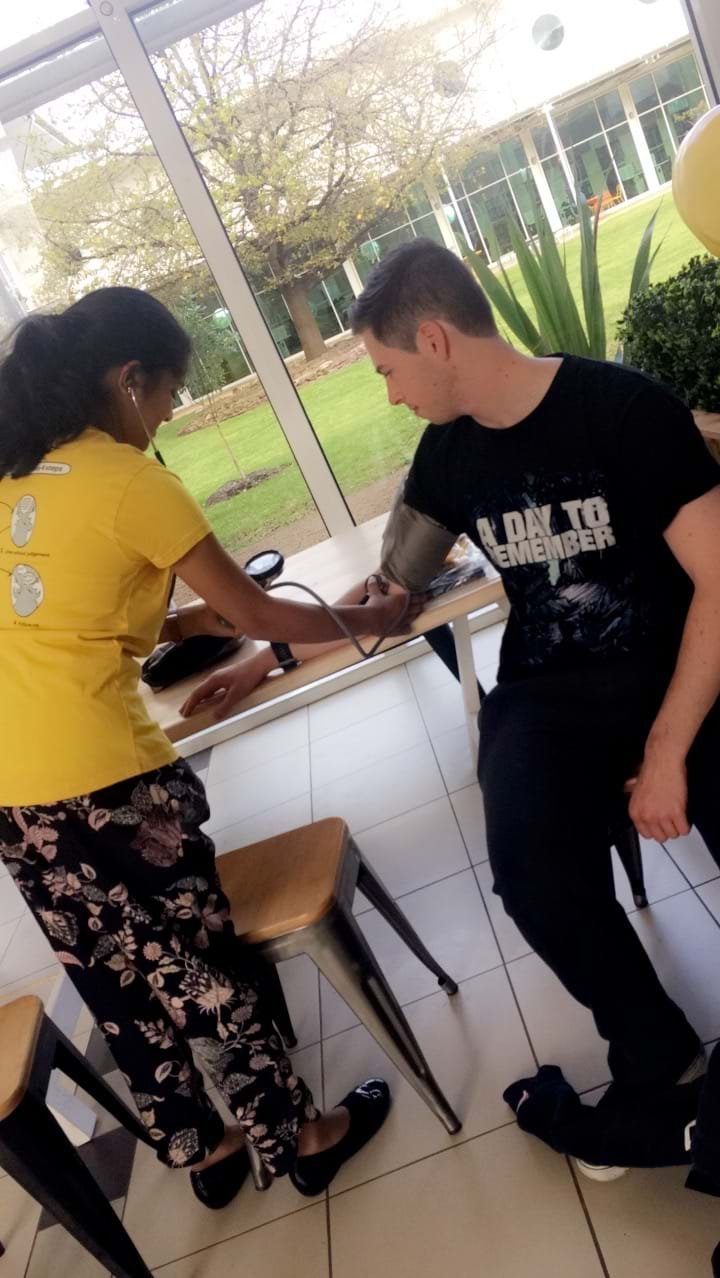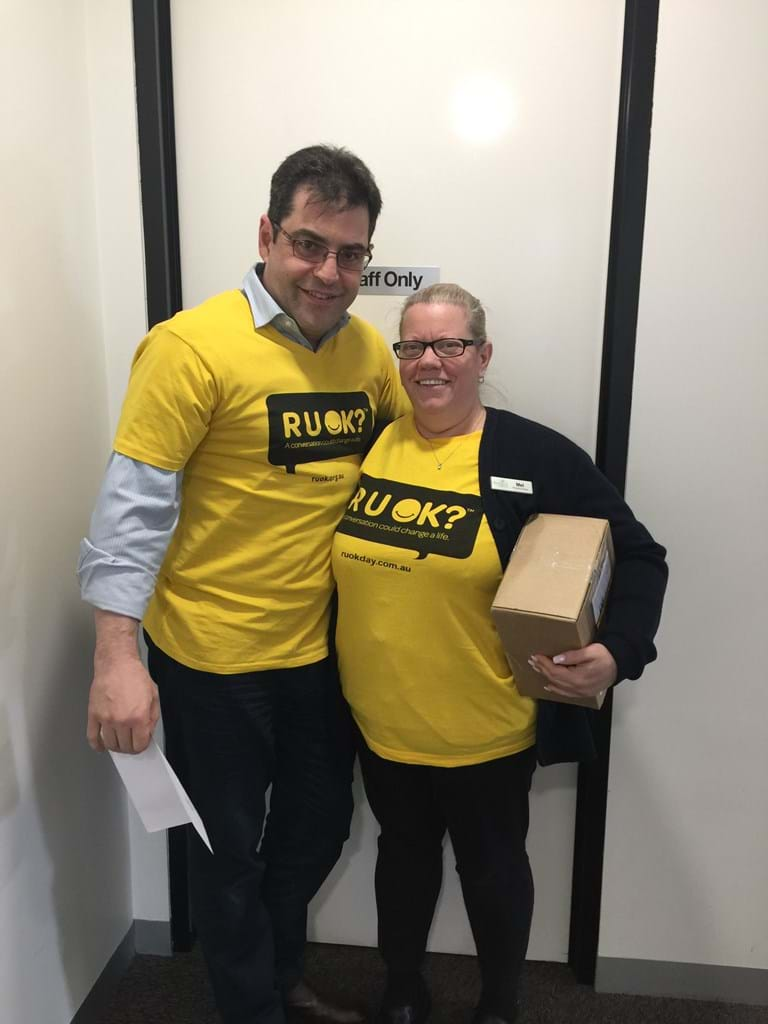 ---
Mental Health Awareness week

10th September '17 - International Suicide Prevention Day
14th September '17 - R U OK Day
We're asking everyone to "take a minute and change a life". Take the R U Ok challenge because you never know who's day / life you might change.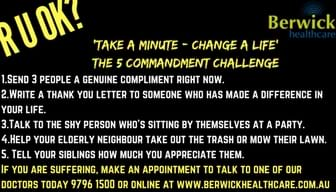 According to the Australian Bureau of statistics, in 2015, 3027 people died from Intentional Self Harm. This is one too many. The standardised death rate between Males & Females stood at;
Males - 19.3 deaths per 100,000 people.
Females - 6.1 deaths per 100,000 people.
IF YOU ARE SUFFERING PLEASE CALL US ON 9796 1500 TO MAKE AN APPOINTMENT WITH ONE OF OUR EXPERIENCED GP'S.
---
candle making for women's health week
On Tuesday 5th of September Tracey from Aromafide came to host a Candle Making Class in our conference room for Women's Health Week. All 6 girls that attended were intrigued by the process of Candle Making and we received great Feedback from that class!
The picture on the far left shows 2 candles, the yellow one is the "before" and the white one is the "after"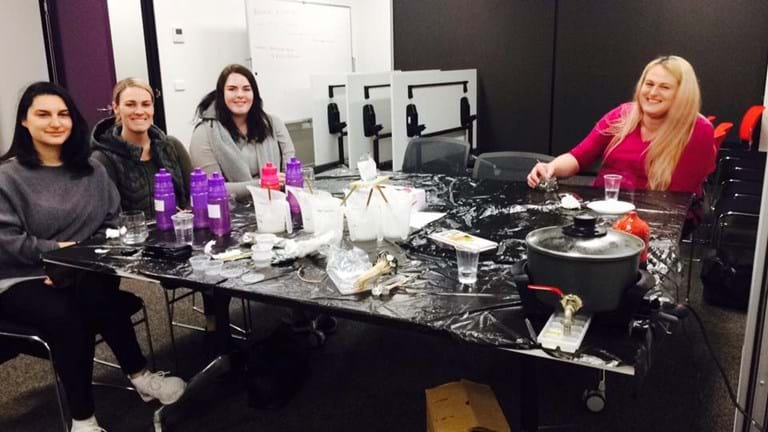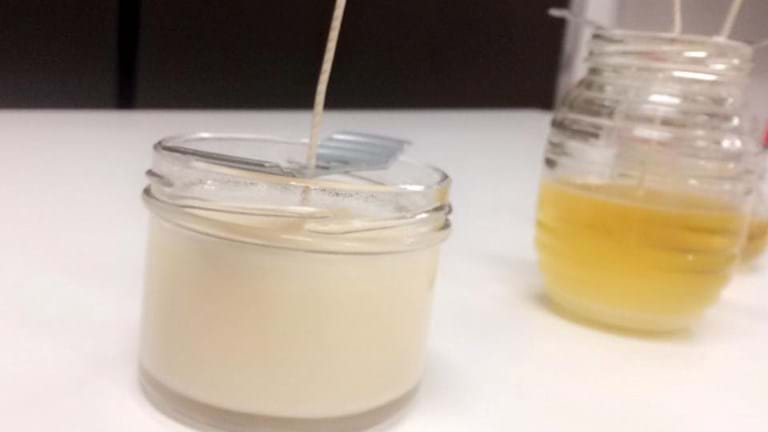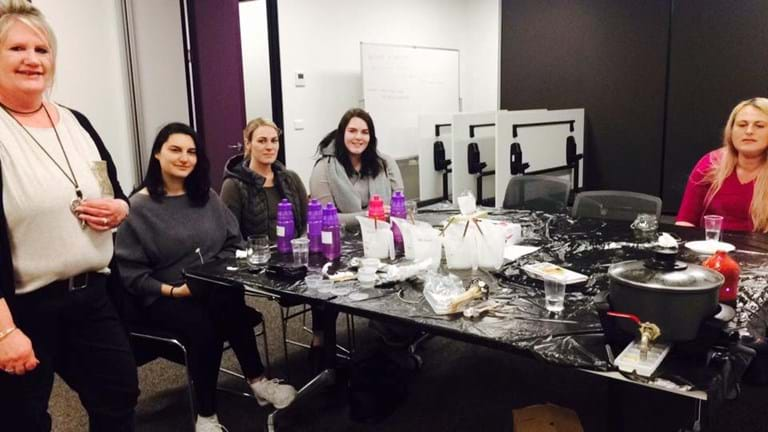 #DONATELIFE 30TH JULY - 6TH AUGUST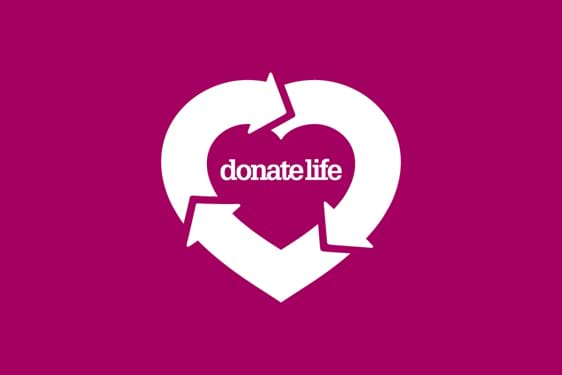 Save a life today and register as an organ donor. In 2016, a record 1,447 Australians received a life-saving transplant through the generosity of 503 deceased organ donors and their families who agreed to donation at the time of their loved one's death.
This represents a 16% increase in the number of deceased donors over 2015, and 17% increase in the number of lives saved after receiving a transplant.
More than 1,400 Australians today are waiting for a life-saving or life-transforming transplant. If you are willing to one day save lives by becoming an organ and tissue donor, you need to register and discuss your decision with your family and friends.
Click Here to find out more information.
---
Mum's & Bub's Yoga (6 Week Course)
This 6 week course will introduce you and your baby to Yoga in a relaxed and supportive environment. You will learn practices which support you to feel vibrant and help you deal with the myriad pressures of motherhood. This program will help you connect to yourself, your baby and share motherhood journey in a supportive group.
Suitable for Mum's from six weeks post partum and babies from 6 weeks to crawlers.
When: Six consecutive weeks beginning Tuesday 1st August 11:15 am to 12:15 pm.
Investment: $120 for the 6 week course which includes weekly handouts, online forum and resources.
Book online at bodyyoga.com.au or phone Anna on 0402 072 677
---
Cranbourne Food truck success!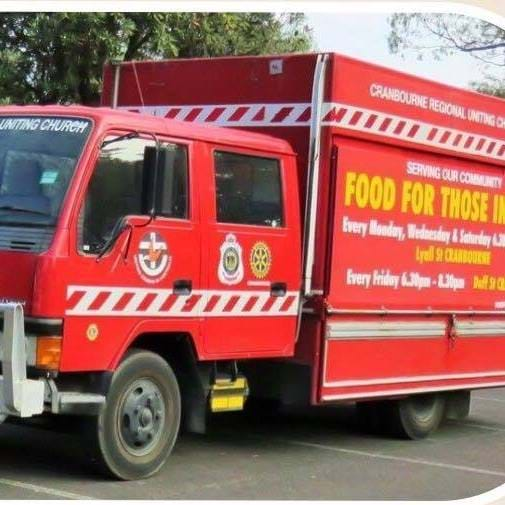 Berwick Healthcare hosted a in - house Trivia night on the 24th of June in hope to raise money for The Cranbourne Food Truck which provide warm meals for the homeless in the area. We were able to successfully raise a whopping $1100 to help and support this non for profit organisation.
Berwick Healthcare frequently runs fundraisers and charities for medical research and community support.
Please click here if you want to get in touch with The Cranbourne Food Truck and find out how you can help either by donating food, money or even becoming a volunteer!
---
Free overall men's health check for Mens Health Week '17
Statistically Men consult a GP less than women do and unfortunately a lot of Health Problems don't discriminate. This is why it's important for Men to start taking control of their health and making sure they get check ups to avoid problems down the road. Berwick Healthcare will celebrate Mens Health Week between the 12-16th of June by providing free 30 minute consultations with the GP of your choice and going through above check ups that are applicable to you.
Appointments can be made by calling 9796 1500, Booking online here, or downloading our app & booking online Google Play here / Apple store here
IF you are booking online, Please book in the week of the 12th of June and in General comments please specify it's for Men's Health Check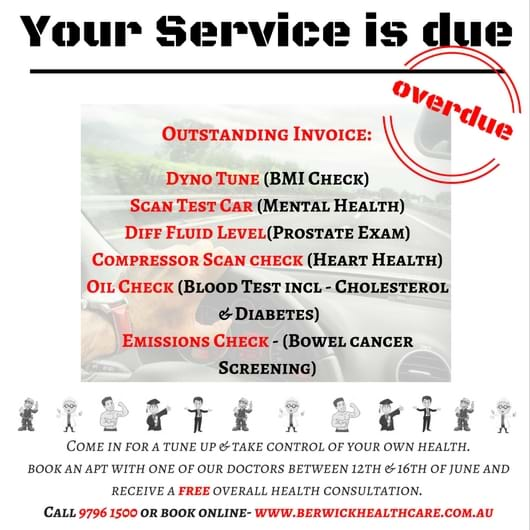 ---
Biggest Morning Tea Success
Our Biggest Morning tea was a success, our Fundraiser goal was $300, but we managed to raise a grand total of $417.70!!
Berwick Healthcare would like to thank EVERYONE who participated and donated a little to help us reach our goal. Especially our lovely staff who took the time to cook a little something for the morning tea.
We also did the raffle draw and our 8 winners have been notified of their exciting prizes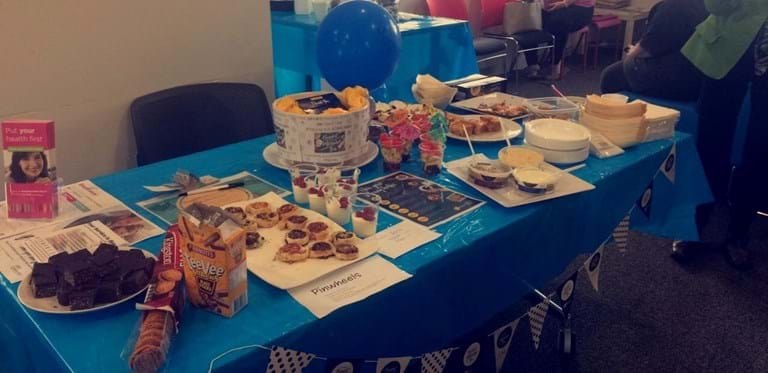 ---
Download our app for easier bookings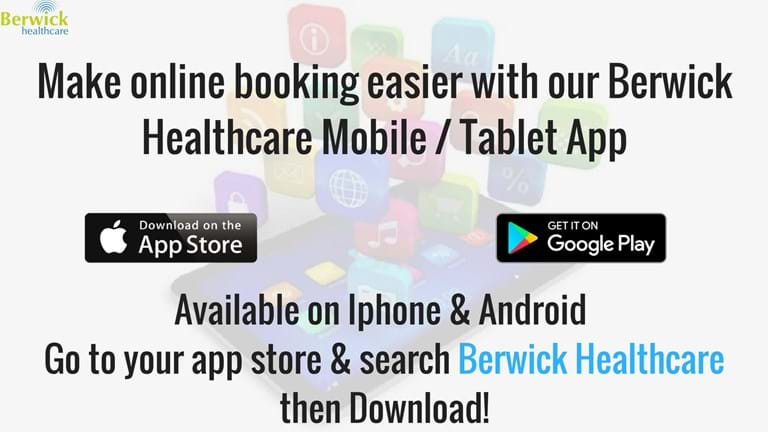 Please visit reception if you have any issues with the app
Direct links to app - Google Play Click Here / Apple store Click Here
---
Flu Vaccinations are now here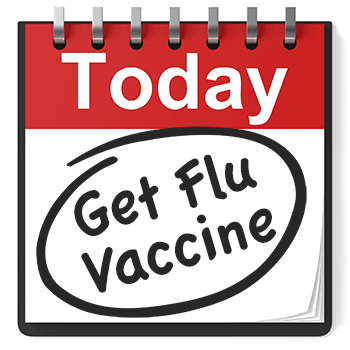 Our Quadrivalent Flu Vaccinations are finally here! Please call us on 9796 1500, download our app or make a online booking here. The Quadrivalent Flu vaccination is privately & publicly stocked at the moment. Patients who are eligible for a Free Flu Vaccination can receive a free vaccination.
Otherwise Private Fees are as follows;
Private - $20.00
Student - $15.00
---
After Hours Project Grant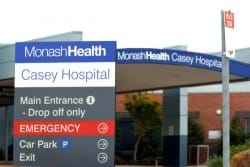 Berwick healthcare has been successful in obtaining a grant from South Eastern Melbourne Primary Health Network to partner with Casey Emergency Department (Monash Health) to redirect primary care patients attending the ED to Berwick healthcare for more appropriate non-emergency care.
The development of an agreed pathway between Casey ED and Berwick healthcare will be piloted between the hours of 4pm-7pm weekdays.
More details to follow as the project progresses.
---
Book an appointment online today!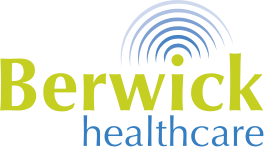 Here at Berwick Healthcare we like to make life easy for our patients. Introducing our Online Booking facility via Health Engine where it's quick and easy for New & Existing patients to book an appointment with any of our GP's at their convienience.
We have also uploaded an Electronic version of our New Patient Registration & Health Summary Forms where you can submit online prior to your appointments to save you time and hassle trying to look for a printer or rushing on the day.
We are always trying to keep our Website as modern as possible so watch this space for New Updates!
GLBTI FRIENDLY PRACTICE POLICY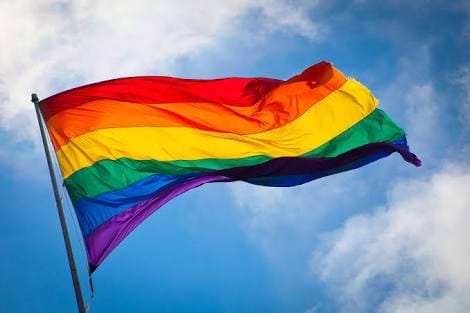 Berwick Healthcare is a GLBTI inclusive practice and actively advocates for the healthcare needs of this diverse community. We welcome patients and families that identify with being Gay, Lesbian, Bisexual, Transgender and Intersex, and invite you to come and visit us at Berwick Healthcare.
We are happy to announce that Berwick Healthcare now provide free WiFi to patients while they wait. Please enquire at reception for further details.